Faith and Food Hosted by Strength.Church
Come be part of our amazing community and eat dinner with us on Wednesday night. This is a low-key event where we sit together and relax over some good food and discuss the Bible. Meet our amazing people and participate in meaningful discussions in a multicultural Christian environment. Everyone is welcome and accepted here in our beautiful Lakewood community. We are looking forward to seeing you on Wednesday!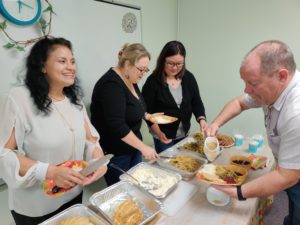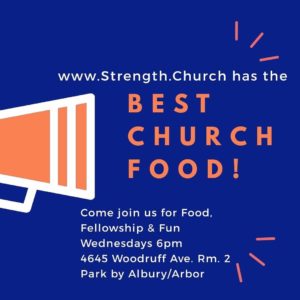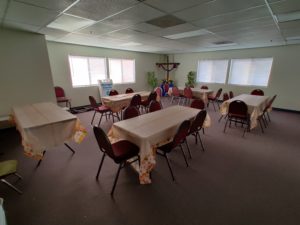 Purpose of Strength.Church Bible Study
Why do we do this? How does it help?
We recognize that time is valuable and we want our Bible Studies to reflect that.
Therefore, we limit our Bible Study sessions to 1.5 hours on a Wednesday night. In
addition, we strive to bring passages, verses and articles that help us in our Life Walk.
We want our faith to be infused with our lives. We want to walk the walk while keeping
in mind what we have been taught by Jesus.
There is a lot of value in studying each book of the Bible and immersing oneself in
a long and detailed study. We recognize that value. We also realize that our day to day
lives are fast and stressful. We need timely wisdom and words from the Bible that we
can walk away with and put into practice immediately. We believe that smaller, more
digestible chunks of Scripture make it easier for us to truly put the advice into practice,
one step at a time.
At Strength.Church, everything we do is through the lens of being a Body of
Christ, a community, a group that cares about each other and about the Living Word.
We make this time together a relaxed, special fellowship opportunity that helps us to go
forth and become stronger in our daily walk and in our ability to reach and teach others.
In our Bible Studies, we ask what each passage or verse means to ourselves and
we take some time to reflect and hear from others. We think about how to apply The
Word to our lives so that it is falling on fertile ground in our minds and hearts. Then, we
discuss who we might be able to share this with so we can meet our goal of truly
evangelizing in the way that Christ taught us–lovingly and thoughtfully.
" Come, let us sing for joy to the Lord; let us shout aloud to the Rock of our salvation.¨
Each week we offer a printout of the bible study verses. If you can't make it or if you need additional copies, links are provided here and updated regularly.